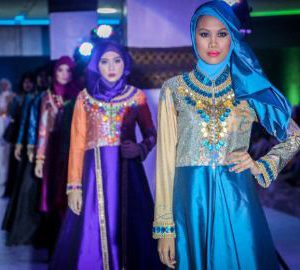 Wearing an collection of colorful trousers, flowing tunics, gowns in traditional and luxurious fabrics and detailed embroidery, and hijabs, local models graced the catwalk on 15th December night, in what organizers named the first-ever Bangala Fashion Fair, organized marking the Shariff Kabunsuan Festival. The Bangala Fashion Fair (Bangala is a Maguindanaoan term for "dress") is an global fashion and textile event featuring the various traditional dresses of the people of Brunei Darussalam-Indonesia-Malaysia-Philippines East ASEAN Growth Area (BIMP-EAGA). Some of these textiles included Batik, Syabit, Inaul, Yakan, Tabih and T'nalak.
This year's celebration of the Shariff Kabunsuan Festival was made grander with a touch from the cultures of the ASEAN region, as it jumpstarted the commitment of Cotabato City to ASEAN integration in the coming years. "The BIMP-EAGA is very important for Cotabato City because we have already established a relationship with these countries back in the ancient times. Remember that our forefathers are of Malay blood and Shariff Kabunsuan himself is also a native of Malaysia," said City Mayor Attorney Frances Cynthia Guiani-Sayadi.
Instagram Hijabis Creations
Featured in the fashion fair were the creations of the hijabis of Instagram, veiled women (hijabis) who, with the rise of Instagram fashion accounts, have displayed their sense of fashion and are dominating the worldwide Islamic fashion industry using social media. These hijabis of Instagram from Indonesia, Malaysia, and the Philippines brought their assortments to the city to be worn by the models in the fashion fair at CityMall Convention Center, as part of the Shariff Kabunsuan Festival.
With 4.4 million Instagram followers, Dian Pelangi (@dianpelangi), is one of the heroines of the modest fashion industry in Indonesia. Indah Nada Puspita is a hijabi fashion model and blogger from Indonesia. Recently, she was the opening act at Yuna's concert. Yuna is a Malaysian singer-songwriter and businesswoman.
Shea Rasol (@shearasol) is an award-winning Malaysian fashion blogger, designer and TV host for 9 seasons of Sis TV9.  Based in Malaysia, Dayah Bakar (@dayahbakar) is a TV host, emcee, and singer-songwriter whose Instagram account has 46,700 followers.
The creations of top local designers,led by Pepe Quitco and Wilfred Yee, also featured in the fashion fair. Among those who organized the show is another hijabi of Instagram, Ammarah Dumama (@ammarahsahara) from Cotabato City, who is clearly not your typical peppy girl. She is a blogger, events specialist, photo enthusiast and an international WHD ambassador.
Shariff Kabunsuan Festival is a colorful festival celebrating the arrival of Shariff Mohammed Kabunsuan, who came to the natives more than 500 years ago to introduce Islam. Annually the festival is held from December 15 to 19.