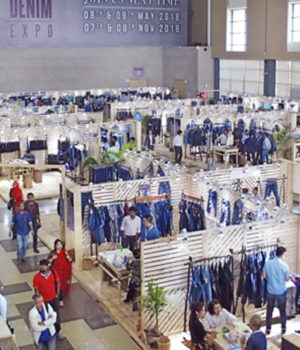 As the largest denim supplier to the European Union (EU), with a market share of 23 per cent, and third largest exporter to the US, with an 11.3 per cent share, Bangladesh is poised to grab a big chunk of the global market share of denim products.Founder of the Bangladesh Denim Expo and managing director of Denim Expert Ltd Mostafiz Uddin expressed this view to The Independent at the just-ended Bangladesh Denim Expo 2017.Mostafiz explained this was because the best quality at an affordable price made Bangladesh's denim clothing popular in the world. Bangladesh was already a significant producer of denim, manufacturing approximately 200 million pieces a year.While the total investment in Bangladesh's denim sector has surpassed $900 million since 2015, many major international brands such as H&M, Uniqlo, Levi's, Nike, Tesco, Wrangler, Hugo Boss, Puma, Primark, and JC Penney were now manufacturing or importing denim products from Bangladesh, Mostafiz added.  According to the Eurostat data, 70 per cent of Americans use regular denim products and UK is one of the largest markets in Europe, where an average person uses of 17 denim products.CEO of Denim Private Ltd Arvind Mathew told The Independent that Bangladesh was the biggest source of denim products across the globe at present because the country was exporting a total of 180 million pieces of denim jeans to the global market every year.According to the data of the United States International Trade Commission (USITC), in 2014, the EU imported denim products from Bangladesh worth EUR 939.02 million, and, in 2015, the figure had risen dramatically to EUR 1176.13 million, registering a growth of 25.25 per cent in one year.
Challenges
Mostafiz mentioned some major challenges and said, "In order to increase the global denim market share, we have to improve our infrastructural facilities such as roads and bridges, gas and power, port connectivity, etc."It would be possible to reduce the lead time, if infrastructural support and facilities were improved, he added. Approximately, 55–60 per cent of denim fabrics were being imported from abroad, which was another challenge that had to be overcome, said Mostafiz. According to the expo organiser, Bangladesh has 30 denim mills, which have the capacity to produce 435 million yards of denim fabrics annually.
Transparency
'Transparency' was the theme of the 7th edition of the Bangladesh Denim Expo, which ended on Thursday.Explaining the theme, Mostafiz Uddin said, "The demand for transparency in the textile and garment supply chains is growing. As a result, 'Transparency' was at the heart of the new edition with a series of actions and events that will let people know about the manufacturing process."He added: "Bangladesh sources 70 to 80 per cent denim products to meet the demands of the global market. Our factories are fully transparent and we are capable of producing sustainable denim products, and we want to convey this message to the buyers with the help of a virtual tour."
Anti-bacterial
Square Denims Ltd showcased a new product, named 'antibacterial jeans', at this year's Denim Expo.When asked about this new concept, general manager of Square Denims Ltd Sayeed Ahmad Chowdhury told The Independent that a pair of 'anti-bacterial jeans' used a spray called 'odour neutraliser', which takes away the stinky smell and refreshes the denim."If you have ever left your jeans for the recommended six months or more before washing, you might recognise a kind of 'oily' feel to the surface. It's due to a build-up of bacteria, pollution, sweat, skin cells. Spray them inside out, leave it for five or 10 minutes and your jeans go dry again," he added.Talking about the sustainability of denim products, CEO of Denim Private Ltd Arvind Mathew said, "New technologies are coming; so, we can produce the denim fabric by using less water with liquid-free chemicals."Explaining the theme, Transparency, he said, 'transparency' means stronger partnership, which refers to the entire network of companies that work together to design, produce, deliver and service products."Our factory produces 5 million metres of denim fabrics per month," Mathew added.
Production capacity
When asked about whether Bangladesh had the capacity to produce high-end denim products, general manager of Square Denims Ltd Sayeed Ahmad Chowdhury told The Independent, "Currently, we are fully capable of producing high-end denim products and we do have world-class machines to produce such denim fabrics."Talking of certain challenges, he said: "Still, we are poor in negotiation and implementing effective marketing strategies; so, these are the two things that we need to overcome."Every year, 2.1 billion pieces of denim are sold worldwide and Bangladesh supplies only 25 per cent among them. So, a large global market was waiting to be tapped, Chowdhury informed."Bangladesh targets to export denim worth $7 billion by 2021. So, we need to develop our infrastructure such as gas and power to achieve the target," Chowdhury said. Asked about the domestic market size, he said, "The local market of denim fabrics alone is around Tk 5,000 to Tk 6,000 crore at this moment and, if we talk about the final clothes that we wear, then the market size is Tk 15,000 to 16,000 crore."Local millers can meet up to 45–50 per cent of the annual demand of denim fabrics, while the rest is imported from different countries, he added.Pacific Jeans Ltd, a well-known institution of premium jeans design and manufacturing, has participated almost every year in this expo. Merchandising manager of Pacific Jeans Masudul Karim explained this year's theme, Transparency, saying, "We have to be transparent to make the business sustainable."Masudul Karim elaborated on the concept, saying every bit of material being used to produce the fabric has to be transparent, meaning, the buyer must know about the ingredients going into the making of the product.Asked about their production capacity, Masudul Karim said, "We have the capacity to produce 36 million metres of denim fabrics annually."He went on to say, "We have our innovation centre, where we intensely work on value addition and new product innovation based on upcoming fashion trends, market research and new idea generation."Bangladesh Garment Manufacturers and Exporters Association (BGMEA) president Siddiqur Rahman said, "Bangladesh exported $2 billion worth of denim goods in the last fiscal year. If we have to make the digit double, we will have to emphasise three things—innovation, adoption of the latest technology and value addition."
Laser technology
The Spa+nish company, Jeanologia, specialising in the development of sustainable technologies for garments finishing, presented its new 'Laser and Eco Dynamic' technology, which, the company claimed, was entirely eco-friendly in producing and washing denim jeans.When asked about Laser and Eco Dynamic Technology and the way it worked, project manager of Jeanologia Fabien Liautard told The Independent that it basically had three different parts, such as laser, eco and e-flow.The key part was e-flow technology that was used to wash denim jeans and turn them into final products, he said. Marketing officer of Jeanologia Kazi Nahidul Alam said that the e-flow technology made it possible to use the exact amount of chemicals needed on denim jeans, thus leaving no excess chemicals that prove harmful for the environment."The traditional method takes 1800 litres of water to wash 100 kg denim garments, while e-flow uses only 30 litres of water to wash the same amount of denim jeans," he explained. e-flow technology, thus, saves 1770 litres of water which is entirely sustainable and environment-friendly, he added. "The objective of Bangladesh Denim Expo is to promote Bangladesh on the global denim scene. So, we are thankful to Pacific Jeans for presenting the Denim Innovation Night at the 7th edition of the expo," said founder and CEO of the Bangladesh Denim Expo Mostafiz Uddin.Ehsanul Karim, a first-time visitor to the expo, said, "I have experienced the Virtual Reality (VR) technology at the expo with which a person can have a virtual tour of a denim mill, a jeans factory, and a laundry—all displaying how the products are manufactured." Almost 65 exhibitors from 12 countries—Germany, China, Bangladesh, Hongkong, India, Italy, Japan, Pakistan, Singapore, Spain, Turkey and Vietnam exhibited their products at the expo.