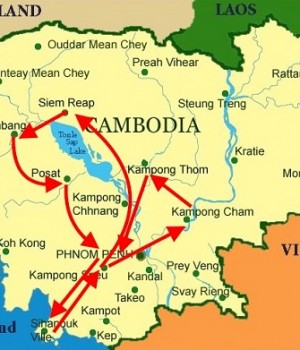 The Kingdom of Cambodia which was once known as the Khmer Empire is located in the southern portion of the Indo-china Peninsula in Southeast Asia. It is bordered by Thailand to the northwest, Laos to the northeast, Vietnam to the east, and the Gulf of Thailand to the southwest. Cambodia, with an official motto "Nation, Religion, King" is an interesting country to know from historical, political and economic perspectives. Cambodia has some interesting similarities with Bangladesh. One of the prime similarity is that both the countries are pre-dominantly dependent on garments industry.
With an area of 181,035 sq km and population over 15.5 million, Cambodia is a unitary parliamentary constitutional monarchy. Ninety per cent of the total population belong to Khmer ethnic group and official language of the country is Khmer.
Ninety five per cent of the population of Cambodia are the followers of Buddhism and the official religion of the kingdom is Theravada Buddhism. The capital and largest city is Phnom Penh. King Norodom Sihamoni is the head of state and Prime Minister Hun Sen is the head of government. Hun Sen is the longest serving head of the government in South East Asia. He has been ruling Cambodia since 1998 as Prime Minister. He has been in power in various capacities since 1985. Critics believe Hun Sen has become increasingly authoritarian, using a mixture of electoral fraud, corruption and intimidation to maintain quasi-dictatorial rule. According to the US-based Freedom House reports, imprisonment can be imposed for "spreading false information or insulting public officials".
The history of Cambodia is very colourful. During the third, fourth, and fifth centuries, a few Indianised states were grown over present-day Cambodian land. The Khmer Empire grew out of these remnants and firmly established in the year 802. The Khmer Empire grew to be the largest empire in the region during the 12th century. The empire's centre of power was Angkor. Angkor is the largest pre-industrial city in the world with an urban sprawl of 1,150 square miles with over one million population. Angkor Wat, the best known religious temple at the site, still serve as the reminders of Cambodia's glorious past and symbol of the kingdom.
In the 19th century Cambodia experienced war due to the struggle between Siam (present day's Thailand) and Vietnam for control over Cambodia. The Siamese-Vietnamese War (1841-1845) ended with an agreement empowering both the countries to have joint control over Cambodia. Since both Thailand and Vietnam failed to exercise their power effectively, a situation was created that led to the signing of a treaty for French Protection of Cambodia. It became a protectorate of France in 1863.
Cambodia gained its independence in 1953 as a constitutional monarchy under King Norodom Sihanouk. In 1955, Sihanouk abdicated in favour of his father to participate in politics and was elected prime minister. Upon his father's death in 1960, Sihanouk again became head of state, taking the title of prince. As the Vietnam War progressed, Sihanouk adopted an official policy of neutrality. He allowed the North Vietnamese communists to use Cambodia as a sanctuary and a supply route for their arms and other aid on their struggle in South Vietnam.
While visiting China in 1970 Sihanouk was ousted by a military coup. The new regime asked the Vietnamese communists to leave Cambodia and thus earned political support of the United States. The North Vietnamese and Viet Cong communist guerrillas immediately launched armed attacks on the new government. From 1970 to 1972, the Cambodian conflict was largely between the government and army of Cambodia, and the armed forces of North Vietnam. As the Vietnamese communists gained control of Cambodian territory, they imposed a new political infrastructure, but eventually the politics were dominated by the Cambodian communists who are known as Khmer Rouge. The Communist insurgency inside Cambodia continued to grow, aided by supplies and military support from North Vietnam. Approximately one to three million people were killed due to the civil war followed by political hangover run by the Khmer Rouge regime.
In November 1978, Vietnamese troops invaded Cambodia in response to border raids by the Khmer Rouge. The People's Republic of Kampuchea, a pro-Soviet state, was established. In October 1991, a comprehensive peace settlement in Paris under the supervision of the UN was given a mandate to enforce a ceasefire and deal with refugees and disarmament known as the United Nations Transitional Authority in Cambodia (UNTAC). In 1993, Norodom Sihanouk was restored as the king of Cambodia, but all power was in the hands of the government established after the UNTAC-sponsored elections.
After a turbulent period of five years of alliance government, Hun Sen became Prime Minister in November, 1998. Though officially Cambodia is a multiparty democracy, in reality it remains a one-party state dominated by the Cambodian People's Party led by Hun Sen.
Due to the pressure from home and abroad, the international criminal court started investigation against the brutality of Khmer Rouge. In July 2010 Kang Kek Iew was the first Khmer Rouge member found guilty of war crimes and crimes against humanity in his role as the former commandant and was sentenced to life in prison. However, Prime Minister Hun Sen has opposed extensive trials of former Khmer Rouge mass murderers. In August 2014, war crimes tribunal, sentenced Khieu Samphan, the regime's 83-year-old former head of state, and Nuon Chea, its 88-year-old chief ideologue to life in prison on war crimes charges for their role in the country's terror period in the 1970s. The group's top leader, Pol Pot, died in 1998.
Cambodia is a member of Association of Southeast Asian Nations (ASEAN). While the kingdom is gradually overcoming the dark days of its recent past, Cambodia has been moving forward to gain economic independence. Cambodia is one of the fastest growing economies in Asia with growth averaging six per cent over the last decade. Agriculture remains the dominant economic sector, with strong growth in textiles, construction, garments, and tourism leading to increased foreign investment and international trade.
In 2014, the total gross domestic product (GDP) estimates on purchasing power party (PPP) basis was US$ 49.960 billion and on nominal basis, $16.551 billion. Per capita income on PPP and nominal basis respectively were $3,262 and $1,080. Cambodian currency is called Riel (KHR) and conversion rate is 1.0 USD to 4,000 Riel.
The garment industry represents the largest portion of Cambodia's manufacturing sector, accounting for 80 per cent of the country's exports. In the first half of 2013, the garment industry reported exports worth $ 5.0 billion which has been growing rapidly. The sector employs approximately 400,000-650,000 who are employed in around 1,000 factories. Garment sector contributes 16 per cent to the Cambodian GDP. Cambodian government has fixed $ 140 as the minimum wage for the workers in the garment sector even though workers and campaigners are still asking for $177. H&M, Walmart, Inditex, Tchibo, Next, Gap, Banana Republic, Nike, Adidas, Puma, Levi's, C&A, Tesco, Old Navy, Calvin Klein, Marks and Spencer are some of the western brands which have been sourcing garments from Cambodia.
According to Asian Development Bank's report, shipments of garments and footwear produced in Cambodia rose by 11 per cent year on year, decelerating from 14.5 per cent in the first half of 2014. Growth in total merchandise exports moderated to 14 per cent from 18.3 per cent. As for tourist arrivals, the rate of increase slowed to 4.6 per cent in the first half from 5.2 per cent a year earlier. The garment industry faces increased competition arising from the appreciation of the US dollar and from other low-wage competitors including Myanmar.
Nevertheless, indication is clear that Cambodia would continue to enjoy robust growth. The garment sector, together with construction and services, continues to lead its growth pace. The World Bank estimates economic growth for 2016 would be around 6.9 per cent even though it would face stronger competition in garment exports and would experience weaker growth in agriculture sector and a mild one in that of tourism. World Bank estimates that poverty would fall further in Cambodia. Human development sector, particularly in the areas of health and education, remains an important development priority for Cambodia.
Cambodia has been facing a number of development challenges, including weak public service, ineffective management of land and natural resources, environmental sustainability, and good governance. Nevertheless, looking at the recent growth of the economy which is influenced by the phenomenal transformation of the neighbouring Thailand and Vietnam economies, it is expected that Cambodia would achieve further growth by exploring its untapped potential in the future. The writer is CEO & Chief Consultant, Best Sourcing Business Advisory Services. mehdi.mahbub@bestsourcing.biz