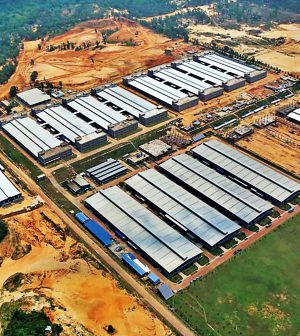 Korean Export Processing Zone (KEPZ) can create jobs for over 0.3 million (303,000) people, of whom 0.1 million (100,000) directly, by bringing total foreign investment worth $1.2 billion by the year 2020, officials of the country's first-ever private EPZ said, reports BSS.
"With the support of the government and the people of the locality, we would soon be able to go into full operation to explore the huge potential," said Jahangir Sadat, president of the KEPZ. He said the KEPZ situated at Anwara in Chittagong will have total 10 million (1.0 crore) square feet (sft) of floor area for setting up factories under a modern and well-equipped greenery environment that is being developed as a comprehensive industrial site. "Over 2,150 acres of the KEPZ land have been developed for industries, zone support services installation, roads, utility services like electricity network, plantation, water bodies, and open spaces," Jahnagir Sadat explained. He said 25 factory buildings have so far been constructed at the KEPZ with a total 3.0 million square feet (sft) of floor area, while construction of a polyster complex giving a floor area of another 420,000 sft would be developed by this year. As per the terms and conditions of the Environment Clearance Certificate issued by the Ministry of Environment, 33 per cent (822 acres) land is kept green with plantation, while 19 per cent (470 acres) is kept as open area and water bodies. The KEPZ president said 48 per cent (1200 acres) of land is being used for factories, utilities, roads, accommodations, hospitals, schools and other supporting facilities, he mentioned adding that the KEPZ authority has developed the zone by fully complying with the government instruction. After deducting the area to be used for roads, utilities and supporting facilities, which is 30 per cent of usable land, 840 acres of land remains for industrial use, he said adding, "We will need two dry seasons to complete development of the remaining area of 400 acres." A total of 30 kilometre roads have been constructed and another three new roads of 4.91km are under construction. Erection of 16km 33KV and 11KV overhead electric line has been completed. "Presently, the KEPZ has employed over 17,000 workers, 95 per cent of them are locals and the recruitment process is going on to hire new workers every day," Jahangir Sadat said, adding, "With full operation, the KEPZ would require more than 0.1 million (100,000) workers." Md Shahjahan, executive director of the KEPZ, said construction of three design development centres is underway since November last year, which on completion would provide an accommodation of 412,221 sft area.
Besides, construction of six of the four-story RCC factory buildings is scheduled to start in June this year to add another 1.56 million (15.6 lakh) sft area by the next year and thus would raise the capacity to 10 million (1.0 crore) sft by the year 2019. The KEPZ's Guest House-1 with 96 rooms, conference halls, business and communication centre is in operation for the last four year while the second unit of the guest house with same facilities on 75,040 sft area is nearing completion, he added. "Out of planned 12 female dormitories, construction work of three is underway having each 8,624 sft. With full completion, these dormitories would accommodate 5,184 female workers, Shahjahan said, adding for attracting investors, especially the foreigners, there is a 18 hole golf course at the KEPZ. Some 2.0 million trees have so far been planted to convert the entire area into a green zone and as part of it 70,000 saplings were planted in 2016. Besides, 17 lakes conserving over 360 million gallons of monsoon water were created on an area of 129 acres while there is a plan for creating more seven lakes adding the conservation capacity by another 193 million gallons of rainwater. Design and drawing of an IT park on an area of 100 acres of land in the southern tip of KEPZ is in the process of finalisation. On completion, it would provide a working space for 20,000 workforce and residence for 10,000 people. Around $ 250 million has so far been invested at the KEPZ to develop the area, which was previously a barren land. The KEPZ authority acquired land from the government in 1999 by paying Tk 650 million (65 crore) and its possession was handed over by the deputy commissioner of Chittagong on August 3, 1999, and it got environment clearance in 2009.