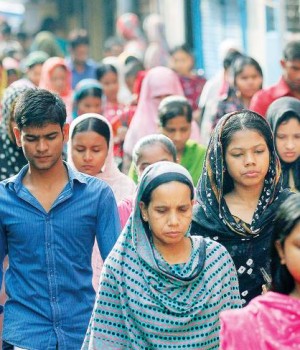 Only one per cent out of the garment factories surveyed by the DIFE has trade unions (TUs) while 55 per cent of them even don't have any participation committees, officials said.
Nearly two years have already elapsed since the labour law has been amended with simplifying the procedures for forming trade unions at garment factories.
The Department of Inspection for Factories and Establishments (DIFE) inspectors visited some 643 factories during the period between January and March in 2015.
Of the factories surveyed, 356 are the members of the Bangladesh Garment Manufacturers and Exporters Association (BGMEA) and 129 are the members of the Bangladesh Knitwear Manufacturers and Exporters Association (BGMEA) while 158 others don't have any affiliation with either of the two trade bodies.
According to the report, only three factories (1 per cent) associated with BGMEA and two factories (nearly 2 per cent) affiliated with BKMEA have TUs. But non-member factories surveyed by DIFE have no TUs.
However, 53 per cent of BGMEA factories and 43 per cent of BKMEA factories have participation committees while it is only 30 per cent for non-member factories, according to the data.
Participation committees are comprised of representatives from both the factory owners and workers that, according to labour leaders, actually work in favour of the owners.
In 2013, the government amended the Bangladesh Labour Law-2006, simplifying the trade union formation for garment workers to bargain for their rights amid pressure from local and international arenas, especially after the Rana Plaza building collapse.
Since then, more than 300 new trade unions have got government registration in last two years, raising the total number to 427, according to the labour ministry.
According to DIFE, some 3,740 garment factories are now operating across the country.
But still there is allegation that workers are being harassed, threatened, beaten and terminated by the factory management when they try to form trade unions.
Labour leaders admitted that although the situation has changed a little bit compared to that of two years back, there are still impediments to forming unions.
Non-cooperation from owners, fear to lose jobs and some legal complexities including requirement for 30 per cent workers to form unions are major reasons for less number of unions in the country's ready-made garment sector that employs some 4.0 million workers.
"Workers cannot freely organise on the factory premises during lunch break or after work to have their representation while the authority's power to terminate workers mainly discourage union formation," Amirul Haque Amin, president of National Garment Workers Federation, claimed.
Moreover, requirement for 30 per cent workers to form unions is also a barrier, he said, adding that if workers fail to organise freely how they meet that requirement.
"And if the factory management come to know that workers are trying to form union, they use their termination power as tool against union formation," he alleged, adding that DoL (department of labour) also misuses its power and rejects many cases, although they meet all the requirements.
He demanded that the government should look into these issues.
Roy Ramesh Chandra, secretary general of Industrial Bangladesh Council, blamed factory owners' negative attitude towards union and weakness of union organisers struggling, committed and aggressive attitude for thin presence of trade unions in garment factories.
The government has allowed trade unions and participation committees in the garment factories due to pressure especially from international community, not from workers, labour leaders alleged.
Md Atiqul Islam, president of BGMEA, has brushed aside the allegation of creating barriers to forming unions by the factory management and termed the registration of more than 300 new unions after the amendment to the law 'dramatic change'.
He said, "We always welcome legal and constructive trade union to create a better industrial atmosphere for better productivity."
"Our concern is that there is a lack of education, awareness of the principles of trade union, and motivation among our workers. Their age and cultural backwardness make it vulnerable to misuse the power of union," he said, adding that there is always fear of external influence and politicisation of the trade unions that can only lead to disruption.
To ensure a safe and proper functioning of trade union and improved workers' rights situation in Bangladesh, he called for educating the workers to increase awareness and train and motivate them on their rights and responsibilities.