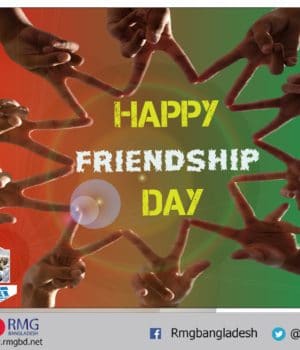 Dear friends
Friendship Day greetings!
Friendship is defined as a state of mutual trust and relationship of mutual affection between people. Friendship is a stronger form of interpersonal bond that helps us to grow further with peace, happiness and prosperity.
It is said that "friendship is like a special rose that never goes away…even when we are not together…friends are always in our hearts." While there is no practical limit on what types of people can form a friendship, friends tend to share common backgrounds, occupations, or interests and have similar demographics, cultural or social heritage. Life events can and do impact the quality or quantity of friendships. Human beings do cherish friendship deeply always, irrespective of ages, social or economic positions. A World Happiness Database study found that people with close friendships are happier.
The people of Bangladesh are known for their loves and craziness for friendship. It is indeed rooted deeply on the psychological, social, even economical – political mindsets of the people. Those whom we like as friends, we intend to show support for them, stand beside their causes. Bangladeshis do care friendship in every aspect of their lives.
Bangladesh is fortunate as the country has friends and well-wishers in abundance from home and abroad. The private sector of Bangladesh, with support rendered by consecutive governments, has led the economic growth of the country and proved as "friends of economy and people". Bangladesh is now righteously stated as an "economic miracle" of the world. The country was devastated by the occupant Pakistani forces during the war of independence in 1971; after sacrificing 3 million lives when country got its political freedom, anti-Bangladesh forces from home and abroad tried to make the country as a "bottomless basket". People suffered but didn't bow down. Farmers, workers, entrepreneurs – all sorts of people worked together and changed the economic scenario of Bangladesh.
This is almost a universal truth that Readymade Garment (RMG) sector played a pivotal role in the development of Bangladesh.  "Made in Bangladesh" label is found all over the world and it brings immense pleasure to everyone in the country that RMG sector has been playing an ambassadorial role of Bangladesh to the world.
Not only the 81% contribution to the country's export sector or creating employment of more than 4.5 million workforces but also, this is so true that RMG sector has been playing one of the most vital roles in development of other sectors i.e financial institution, transportation, logistic and many local industries (food, toiletries, cosmetics, footwear, housing etc) directly or indirectly.
On this Friendship Day, Bangladesh RMG Centre – the independent platform which is committed to serving the country and its economic lifeline, urge everyone to be an integral friend, sincere well-wisher and devout supporter of Bangladesh RMG Centre. It doesn't mean, we can't or shouldn't criticize the RMG industry if it does something wrong but let's be constructive. We should care as well as consider the challenges of this labor intensive industry which has developed initially unplanned manner but now trying its best to comply global standards and business practices.
We need to look into following issues, (among many others which we would discuss further in future, gradually) with due care and friendly mood, irrespective of our positions if repeat if we want the growth of this industry, for the sake of the country and its people.
RMG export growth has been showing stagnancy; after having double digit growth in many years, it has come down to a mere single digit in recent years.
All stakeholders of RMG Bangladesh industry should work together to resolve this impending challenge, otherwise we might experience negative export growth.
The cost of production has been growing rapidly in the industry, thanks to weakness in country's infrastructures and system failures. Power and gas shortage, poor road conditions, Chittagong port congestion, failure in managing air shipments, corruption in customs, shortage of skilled professionals etc have forced the industry to look for costlier alternatives i.e dependence in fuel generator, price deduction and discount, unnecessary air shipment, recruitment of foreign nationals etc.
It is imperative that both government and RMG industry need to work closely and try to fix these impediments to the growth of Bangladesh RMG industry.
Bangladesh RMG business has been facing challenges from its Asian neighbours which are getting various types of supports from their respective governments and importing countries.
Appropriate fiscal and non fiscal incentives should be offered to the RMG industry to be competitive and efficient, compared to competitors. Bilateral trade negotiations and discussions should be more aligned in line to RMG industry's benefits.
Despite phenomenal initiatives to improve safety, compliance and environmental issues which were taken place after Rana Plaza disaster, still the image of Bangladesh RMG industry in global (as well as local) media is negative, shattered with bad incidence. We have to understand and acknowledge that any new bad incidence like labour unrest or fire or building crack in a single factory news create a very long lasting impact which deteriorate the image of the RMG industry.
While all stakeholders should work relentlessly to ensure a safer and better working environment for all, a planned media campaign should be initiated. There should be continuous awareness building initiatives at home and abroad on Bangladesh RMG industry.
We do acknowledge this fact that many of these problems can't be improved right way despite the dire need of urgent improvement, we should start working right way now. We are late already but can't afford to be too late.
Let's be a TRUE FRIEND to the country and it's most vital industry.
Friendship Day wishes again to all who love Bangladesh and it's RMG industry.
Mehdi Mahbub
President
Bangladesh RMG Centre