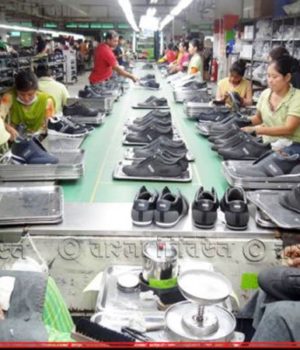 Bonshoe Bangladesh Limited, a shoe-maker at Chittagong Export Processing Zone, manufactures footwear for world renowned brand Hugo Boss. Shoes with 'made in Bangladesh' tags spread across the globe are testament to the high quality Bangladeshi products.The factory manufactures around 20,000 pairs of shoes on an average each month. German-based Hugo Boss, among the top ten footwear brands, buys the products and ships them directly to Germany, US and Canada.The shoes are exported to many European countries, corresponding with the demand, via warehouses in Switzerland. Bonshoe, set up by two Taiwanese nationals, is earning global admiration for Bangladeshi products. None of the company's officials agreed to speak to Bangla Tribune on record, saying they needed their employers' permission before speaking to the media.
CEPZ General Manager Khorshed Alam said: "Bonshoe produces footwear for various international brands including Hugo Boss and Armani. It has made a name for itself in the international market for producing quality shoes."He said the factory employed about 1,500 locals – majority of them from the indigenous communities – and more than half of them are women.Bonshoe, he said, was a 100% compliant factory. It is earning fame for Bangladesh by manufacturing top quality products for famous brands, creating employments, helping to increase foreign investment and export earnings."It is also playing an important role in Bangladesh's economic growth," he added.Bonshoe is not a member of the two local organisations of leather product and footwear manufacturers and exporters in the country.Bangladesh Export Processing Zone's General Manager (PR) Nazma Binte Alamgir said the country was already famous for its quality garment products."Bangladesh is also famous for other quality products it produces for world famous brands in the EPZs. Bonshoe is spreading Bangladesh's fame globally by making footwear for Hugo Boss. The reputation of factory workers' skills are also spreading far and wide," she added.
State Minister for Foreign Affairs Md Shahriar Alam was elated after noticing the limited edition AMZ Mercedes Benz range footwear by Hugo Boss had the 'Made in Bangladesh' tag.He expressed his joy on his official Facebook page. "… What I saw myself today made me sleepless out of sheer joy. World famous brand Hugo Boss is selling shoes with 'Made in Bangladesh' tag; that too the limited edition AMZ Mercedes Benz range footwear rather than the regular products."Bangladesh Tanners' Association President Shahin Ahmed said brands like Deichmann, Europe's biggest footwear company, is also importing footwear from Bangladesh."Leading global brands like Prada, Tamaris, Esprit, BZ Moda, Humanic, Regal, US Polo, Gul Shoe, H&M, Navy shoes, Clarks shoes, Deckers, ECCO shoes, Rockport, Timberland shoes, Wolverine, Cole Haan, GUESS shoes, Jones Group, Michael Kors, Bally, KENZO, Miu Miu and Paul Smith, among others, are selling shoes made in Bangladesh," he said.Bangladesh exports around 65% of its manufactured footwear to the European Union countries, according to industry insiders. Government data showed that footwear export in the first three quarters (July-March) of the current fiscal year soared by 13.13% compared to the same period last year.Leather sector, the country's second-largest export sector, has seen a 10-fold increase over the last decade, industry insiders say.The government has set a target of exporting leather goods worth $5 billion by 2020. Apart from shoes, Bangladesh exports finished leather, travel bags, wallets, belts and other products.