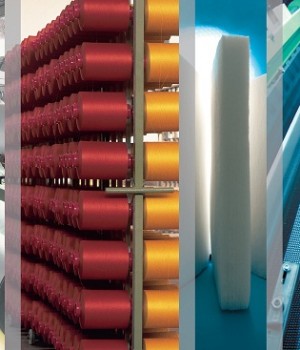 Termed as a backward-integration of the Readymade Garment (RMG) sector, the textile sector, with export earnings of $407.73 million in the first six months (July–December) of the current fiscal year (2017–18), rising from $352.57 million in fiscal year (2016–17), has started playing a significant role in the national economy.Vice president of the Bangladesh Textile Mills Association (BTMA) Mohammad Ali Khokon told The Independent that investment in Bangladesh's textile sector had climbed to $6 billion since its inception.The textile industry has been playing a significant role in building a robust and sustainable backward-linkage industry and the percentage change of export performance from FY (2017–18) to FY (2016-17) was 15.65 within one year, he said.  Approximately, 12 lakh people were employed in the textile sector and there was ample scope to create more employment because the sector was known to be capital-intensive, he said.According to the BTMA, textile machinery worth Tk 8,322 crore had been imported in FY 2015–2016, while the figure was Tk 7,489 crore for FY 2014–2015—recording a growth of 11 per cent.This year, the RMG and textile sector accounted for 83.38 per cent of the country's entire export earnings. Hence, the contribution of textiles in the GDP was approximately 13 per cent, said Khokon.Experts say that lower interest rates, the resolution of the compliance issue, policy support, split from the RMG sector, financial incentives, and the creation of a national data base would help this sector double its export earnings by 2021.
Showcasing technology
The four-day, 15th Dhaka International Textile and Garment Machinery Exhibition (DTG), jointly organised by the Bangladesh Textile Mills Association (BTMA) and Yorkers Trade and Marketing Service Company Ltd, will end today at the Bangabandhu International Conference Center (BICC) in the capital.BTMA vice president Mohammad Ali Khokon said that DTG was not merely an exhibition for displaying the latest technological advancements in textile and garment machinery and accessories but was a showcase and attractive outlet to demonstrate the progress and achievements in Bangladesh's industrialisation efforts in the textile sector."In 2017, we had received $250 million spot order. We hope to get more spot orders this year," he said. Khokon added, "The BTMA has been organising this event since 2004 and we have successfully done so for 15 years." "At this expo, entrepreneurs and businessmen are getting a good glimpse of the progress and advancement made in our textile arena, especially in the primary textile and garment sector," he said. About the response, he said, "The response that we have got so far has been so enormous that it has become extremely difficult for us to accommodate the request of all the interested parties wanting to set up their stalls at the expo venue."
Expo objective
Explaining the expo's objective, he said that it served as a platform for making contacts and deals among textile machinery manufacturers and the buyers.    About the opportunities, he said, "Our local entrepreneurs are getting an excellent opportunity to see for themselves the range of the latest machinery, technology, and the entire supply chain."Local investors contemplating new investments are utilising this opportunity to the fullest to choose the most appropriate technology because new technology ensures production efficiency and cost minimization, thus providing a competitive edge, he said.Bangladesh was gradually becoming an attractive destination for sourcing textiles and apparels by foreign buyers, he felt.   According to BTMA officials, 1,000 textile machinery manufacturers, from 33 countries, have participated in the exhibition spanning 18 halls comprising 1,200 booths.Austria, Bangladesh, Belgium, China, Denmark, Germany, Hong Kong, India, Indonesia, Ireland and many more countries are participating in this expo.DTG is the biggest exhibition in the textile and garment sector, and is also known as a mini International Textile Machinery Exhibition (ITME) in South Asia, said officials.Bangla Cat, a textile machinery and accessories solution provider company, is taking part in the expo to showcase its products.Manager of Bangla Cat's product support division, Ezaz Hossain, said the company provided accessories for the textiles industry, including gas generators and forklifts.Forklifts were generally used for material handling and carrying materials or goods from one place to another inside a factory, Hossain added.   "Bangla Cat first introduced the new H series, fuel-efficient generator called 'G3512H'. This generator has a low running cost and generates power over longer hours with small amounts of fuel. When asked about the price, he said each machine costs about Tk 5 crore. "Our sales have risen to 45 per cent over that of last year's," he added. Suzhou Imagin Machinery Company Ltd produces textile machinery. The firm is showcasing its product, 'Smart Twister', at the expo.Speaking on the 'Smart Twister', the firm's managing director, Vick Yao, has said the machine was used in the textiles industry. It helped perform both twisting and soft winding of fabric yarn. The process cost of soft winding fabric yarn was less compared to other kinds of textile machinery, he explained.
Challenges
Highlighting some problems regarding investment, BTMA vice president pointed out three factors—inadequate gas, shortage of electricity, and inadequate availability of land—as hindrance to the textile sector investment.Talking about the prospects of producing high-end readymade garments (RMG), Khokon said that every other country was producing and going after premium products, but, in Bangladesh, inadequate availability of gas and electricity were hindrances to producing more valuable merchandise. The government has taken the initiative to import Liquefied Natural Gas (LNG) with a view to ease gas supply to the industry, he said. "We urge the government to implement the step immediately to overcome the power crisis," said Khokon.Centre for Policy Dialogue (CPD) research director Khondaker Golam Moazzem cited some challenges and told The Independent that Bangladesh needed Foreign Direct Investment (FDI) in backward linkage, textile and high-end products, as it needed large amounts of capital and skilled manpower.The textile industry discharges a wide variety of pollutants at all stages in the processing of fibre and fabrics. Waste minimisation is very important, as it reduces the operating costs, protects health and environment.